Eric Liao, co-founder of Drank, said Nevada's business-friendly tax structure was "an added benefit" when it came to relocating the startup to the Silver State. Courtesy Photo
By Kaleb Roedel
In 2018, friends Eric Liao and Taylor Epp were both working in San Francisco when they quickly grew tired of something that kept putting a damper on their after-work happy hour.
"We realized that ordering beverages just takes forever," Liao recalled during a recent phone interview with the NNBW. "Sometimes in downtown San Francisco we'd have to hop between two or three different bars before we could even place an order."
The lines. The crowds of people hugging bar rails. The failed attempts to wave down bartenders. Shouting drink orders over the cacophony of loud conversations and louder music. Liao and Epp felt there had to be a better option for thirsty patrons waiting to get a drink in hand.
And so, while Liao and Epp chatted and scrolled through their smartphones — as most do while waiting to be served — they were struck with a business idea.
"We realized, why can't we just order drinks through our phones like the Starbucks app?" said Liao, noting they knew they weren't the only under-served patrons asking themselves that same question.
With that, in late 2019, Liao and Epp founded Drank, a mobile platform that allows customers at bars, breweries, coffee shops and food trucks to order drinks — and food — directly from their phones.
"We're kind of like Uber Eats, but for grab-to-sit, not delivery," said Liao of Drank, which provides up-to-date digital menus, and uses artificial intelligence to offer food and drink recommendations based on a customer's palette.
The app isn't just designed for consumers — Liao said businesses that integrate their point of sales system with Drank's platform can "increase their sales as well as their bottom line" by selling more with mobile orders, while reducing labor costs.
RENO RELOCATION
Months after soft launching its pilot app, however, Drank saw its growth opportunities dry up when the pandemic shut down bars and coffee shops in the Bay Area, where its 10 initial partners were located.
"Due to COVID lockdowns, not because of our tech, we lost half of our partners," Liao said.
After California's bars and restaurants were gripped by some of the tightest and lengthiest COVID restrictions in 2020, the Drank founders started looking into relocating and restarting the company's pilot program in 2021.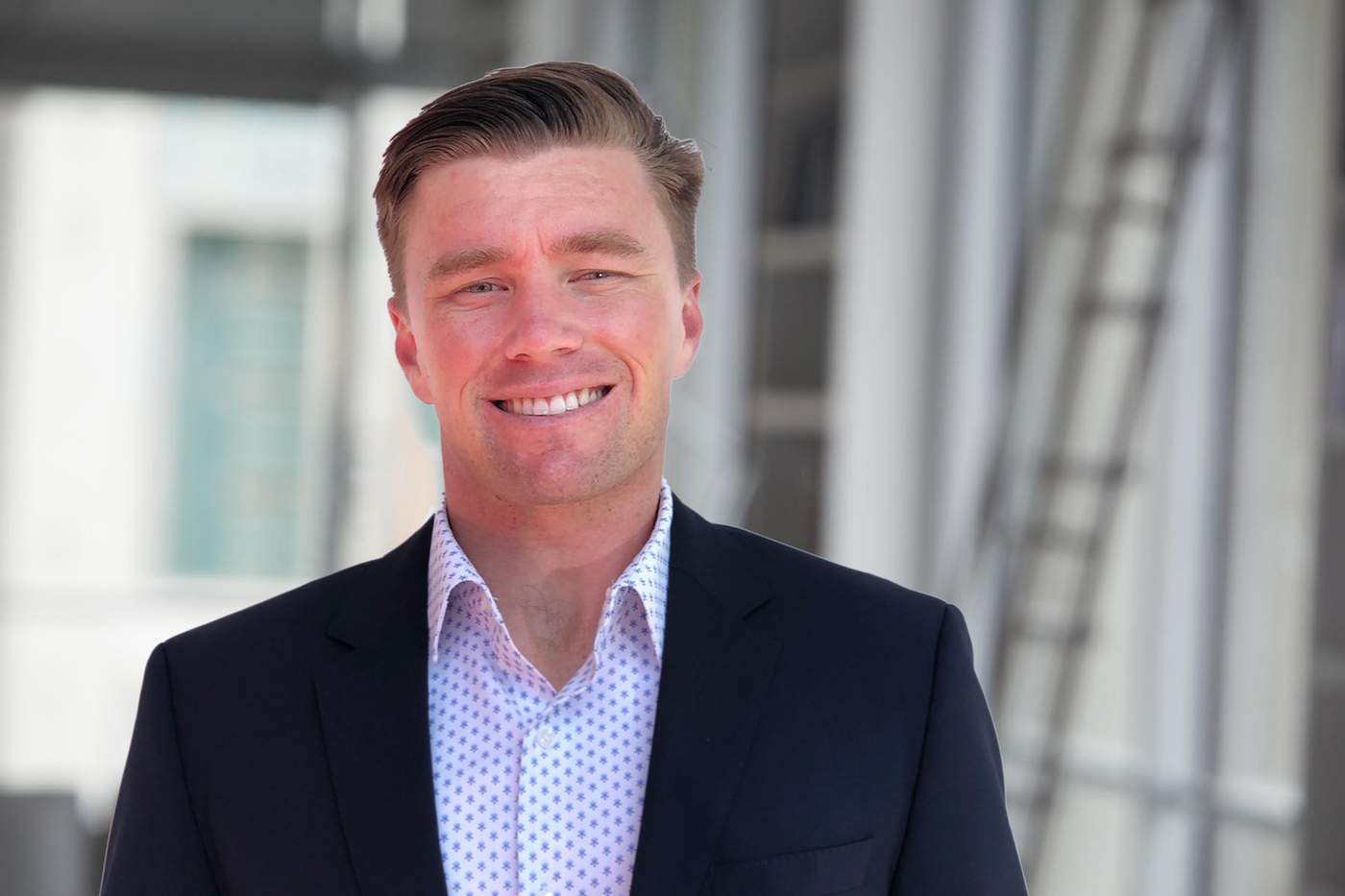 Taylor Epp is co-founder of Drank, which expects to generate about $700,000 in revenue this year. Courtesy PhotoLiao and Epp didn't have to look far. In March, the co-founders moved over the hill to Reno, and got accepted into an accelerator, the InNEVator spring 2021 cohort, at the University of Nevada, Reno Innevation Center.
"Reno was the perfect place to move our business and relaunch our platform because there were less COVID restrictions in Nevada," Liao said. "And Nevada has no personal or business income taxes, so that's an added benefit."
Since going through the accelerator, Drank has worked with the Economic Development Authority of Western Nevada to meet area business owners and adopt initial adopters, said Liao, adding that the company plans to soft launch its revamped platform in early July.
By then, he said the startup should be partnered with at least five businesses.
All the while, Drank has signed agreements to integrate its platform with point-of-sale (POS) technology firms, including Square, Clover, Stripe and Shopify. For businesses using the platform, the cost is a $50 monthly subscription for each POS terminal, and a 3% commission fee, according to Drank.
Liao said the company expects to generate about $700,000 in revenue this year. By 2023, Drank plans to be available for consumers and businesses to use in all four of its initial target cities: Reno, Las Vegas, Phoenix and Portland. At that point, the startup anticipates to hit at least $2.2 million in sales, Liao said.
"COVID has accelerated user behavior by 10 years, where contactless payments and mobile orders have become the new norm," Liao said. "And especially Gen Z and millennials, they prefer technology and being able to use various mobile ordering apps, or their mobiles, in general, to purchase things."
He's not kidding. In fact, 58% of consumers prefer to order digitally from a quick-service restaurant, according to a Deloitte survey last year.
Juniper Research, meanwhile, found that more than half (53%) of transactions running through POS systems in the food and beverage industry will be contactless within five years, compared to just 15% in 2020. All told, the firm estimates contactless payments will triple to $6 trillion worldwide by 2024, up from about $2 million last year.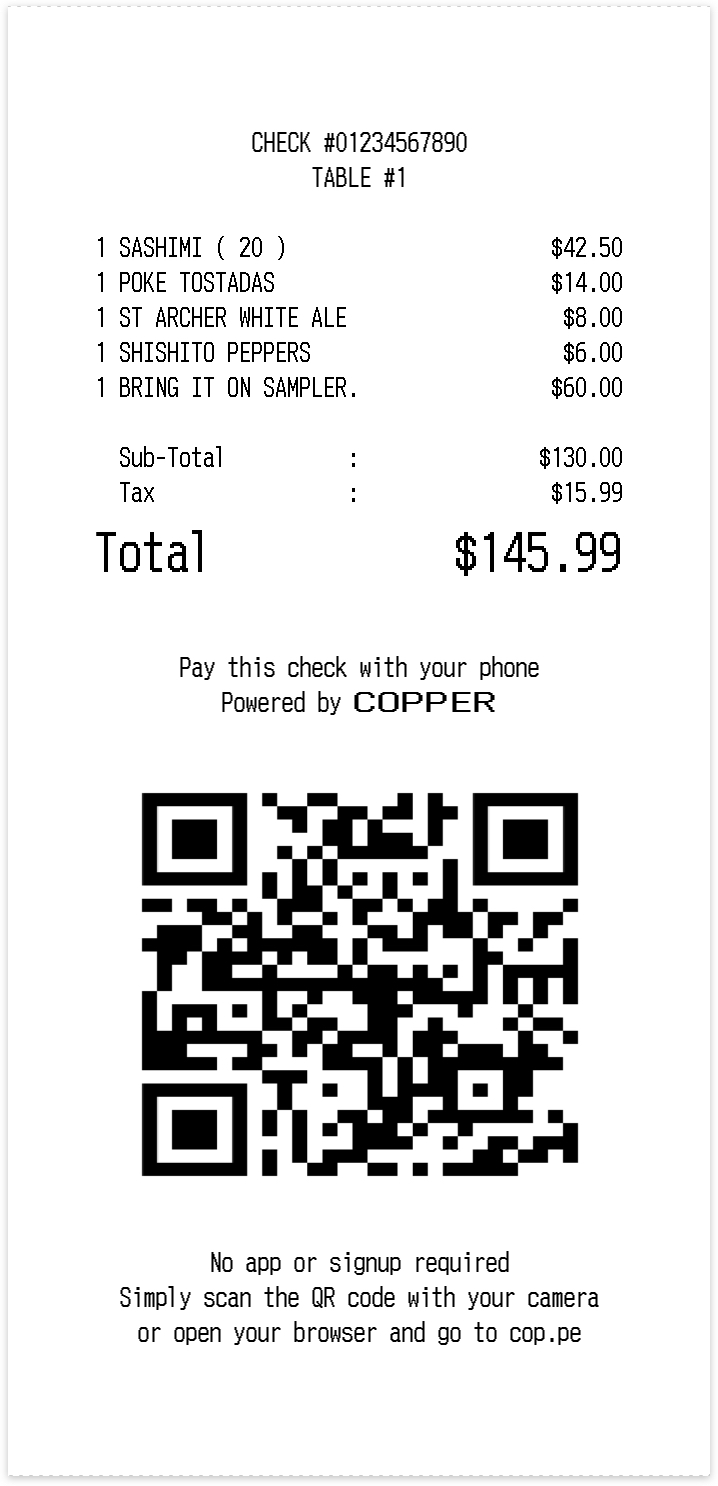 This is a sample of a receipt with a Copper-powered QR code that customers can scan with their smartphone camera to bring up mobile payment options.TURNING TABLES FASTER
Another Reno-based startup is working to help bars and restaurants modernize and keep up with the quick shifts in consumer behavior. Copper created a "plug-and-play" solution that enables bars and restaurants to transform any existing POS system into one that offers contactless payments.
"The issue that the industry has is that everyone has invested in a legacy point-of-sale system, and in many cases it's antiquated," said Doug Richey, co-founder and chief operating officer at Copper. "What Copper is trying to do for the restaurant industry is very similar to what Roku did for the television industry. We look at the 'Copper Cord' as a smart upgrade for a point-of-sale environment.
"As a restaurant owner, you shouldn't need to change your entire setup just to have a modern dining experience for your customers."
The Copper Cord is a smart cable that replaces the existing printer cable that connects a POS system to a receipt printer. This, Richey said, will parse the item-level transaction data in transit, send it to the cloud, and inject a QR code at the bottom of the receipt that a server delivers to the table.

Reno-based Copper created a "plug-and-play" cord that enables bars and restaurant to transform any existing POS system into one that offers contactless payments.To be sure, customers don't need to download an app or even know what Copper is. They can simply scan the QR code with their smartphone camera, which opens a mobile web app that gives diners the option to either pay or split the check — and tip their server — using Apple Pay, Google Pay, or a debit/credit card.
This expedited payment process cuts out the "seven minutes or more" it normally takes with the traditional payment process of receiving a receipt, handing your card to the server, and waiting for it to return, Richey noted.
"When you close out with Copper, it's a minute or less," he said. "When you think about that in the context of a really busy restaurant, you're turning over tables faster. If you've got 20 tables and you're saving six minutes a table, that's two hours, basically, of extra revenue generation time for a single shift."
Restaurants using a Copper Cord pay a $10 monthly subscription for each POS terminal, Richey said.
"If you're the restaurant owner, your decision is, 'do I scrap the $50,000 worth of equipment I purchased five or six years ago and upgrade my whole point-of-sale setup just so that I can offer contactless payments?" Richey said. "Or I can pay this little startup company $10 a month to enable three or four pretty important things for me: contactless payment, access to my own data, the ability to avoid fraudulent chargebacks, and streamline my entire online ordering and third-party ordering operations?"
Richey declined to disclose revenue projections, though he said the company's goal is to have at least 1,000 locations using Copper over the next 12-18 months. Notably, Copper's CEO, Dickson Chu, was a senior executive at PayPal for six years (2004-2010).
Richey said Copper, which he co-founded with CTO Tobias Schneider, is currently narrowing its focus on developing relationships with the larger resellers that service the restaurant industry. Those businesses, he said, will ultimately be Copper's customers.
"They can walk in with this clever little cord, and basically offer the restaurant contactless payments, and that also enhances your business as the reseller," he said. "Most of the resellers make all their money off of the payment processing. They don't want anything that's going to jeopardize their cash cow.
"And so for us, we're really just an enhancement that they can introduce to their restaurant customers that solves a problem."